Breeze Airways is a newly launched airline that claims to offer a genuinely nice experience for everyone. The company was established by David Neeleman, founder of JetBlue.
Breeze Airways had its first flight from Tampa to Charleston on 27th May 2021. The company plans to serve 16 destinations throughout the East and Southeast Coast.
Breeze Airways had its debut on 39 routes at 16 different airports across the Eastern and Southeast US. However, large airports like Charlotte, Atlanta, Florida, Orlando, Dallas, Washington DC, and Philadelphia are yet to be added to its route map. Right now, the company is only focused on serving secondary cities.
Coming to WiFi connectivity and entertainment, Breeze Airways doesn't have any of that. An airline that claims to offer a genuinely nice experience lacks the basic services that customers look for. Hopefully, they will include these services in the future.
The airline gets many good reviews since its launch and people are happy with their low-cost flights. But does the airline plan to offer any connectivity or inflight options on its flights? Read this blog to find out if Breeze Airways plans to offer WiFi on its aircrafts.
Breeze Airline Details
| | |
| --- | --- |
| Airline Full Name | Breeze Airways |
| Headquarters | Cottonwood Heights, Utah, United States |
| IATA Code | MX |
| ICAO Code | MXY |
| Frequent-flyer Program Name | BreezePoints |
| In-Flight Wi-Fi | Not Available |
| Wi-Fi Provider | Not Available |

Breeze Airlines WiFi
As of now, Breeze Airways doesn't offer inflight Wi-Fi connectivity. They also lack any form of entertainment on the flight. However, the company plans to provide these services on its next A220 aircraft.
Breeze Airways may lack Wi-Fi connectivity and entertainment, but they have the Breeze Airways app. By downloading this app, you can earn BreezePoints worth $5.
The airline does however also offer free snacks and water. According to reports, the company will expand its services to special snacks and beverages. They also have plans to provide alcohol for purchase.
Right now, Breeze Airways is running short on various services, including Wi-Fi connectivity. But, we cannot ignore the fact that it is a brand new airline company launched just in 2021. The company has a lot of scope to improve its services in the future. They are planning to include Wi-Fi services and entertainment in their upcoming flights.
However, it is not known what internet provider they will choose or whether the Wi-Fi plans will be free or not.
If you wish to keep yourself entertained during a flight, we recommend that you bring along your phone or tablet and have downloaded your content for offline viewing.
Frequently Asked Questions
Does Breeze Airways Serve Alcohol?
Breeze Airways doesn't serve alcohol to passengers. For now, they only offer complimentary snacks and water. However, they will expand to special snacks and beverages, including alcohol, in the future.
Does Breeze Airways Have TVs On the Plane?
Breeze Airways doesn't have TVs on the plane. They don't offer any entertainment or Wi-Fi connectivity.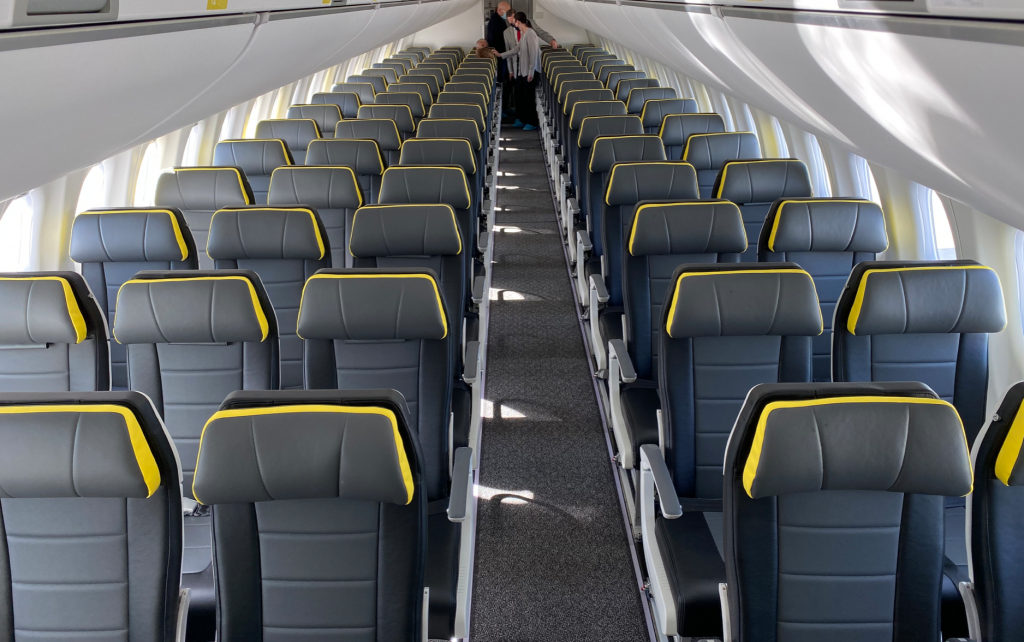 What is Breeze Airways Mission Statement
Breeze Airways' mission statement is "to provide air travel for underserved areas." This is not their official mission statement, but the company aims to provide better service to people. It is a new airline that was launched by an airline professional. Breeze Airways is classified as an alternative airline.
What is Breeze Airways Vision Statement
Breeze Airways' vision statement is "we are a team of aviation, hospitality and technology enthusiasts who believe flying is the greatest privilege and opportunity in the world." The company aims to provide a great experience for everyone.
Breeze Airways is a promising new airline focused on providing a great flying experience. As of now, they are primarily aiming to serve secondary cities, with possibility of WiFi and inflight entertainment in the future.