JetBlue Airways has been awarded a 3-Star rating for the quality of its airport and onboard products, as well as its employee service. It is the fifth largest airline in the United States, with its main hub at John F. Kennedy International Airport in New York City.
JetBlue provides free high-speed WiFi to all passengers on every aircraft.
Airline Details
| | |
| --- | --- |
| Airline Full Name | JetBlue Airlines |
| Headquarters | Long Island City, New York, United States |
| IATA Code | B6 |
| ICAO Code | JBU |
| Frequent-flyer Program Name | TrueBlue |
| In-Flight Wi-Fi | Free Fly-Fi WiFi |
| Wi-Fi Provider | Viasat |
| Pets Allowed? | Yes, in cabin (on certain flights only) |
Jet Blue Airline WiFi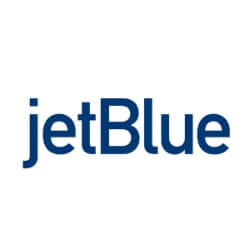 Connecting to JetBlue's free Fly-Fi WiFi is straightforward; the guide below explains how to connect to the aircraft's WiFi while in the air.
JetBlue Airlines provides free onboard Wi-Fi via its Fly-Fi network. The coverage area of Fly-Fi varies depending on the kind of aircraft and the route.
JetBlue flights span the whole of the United States. The Caribbean and Central America are now better served by Airbus A320 and A321neo planes. The Airbus A321 Long Range aircraft now provides extended coverage to and from London.
JetBlue Airline's WiFi is branded "Fly-Fi" and provides good coverage on all seats of the aircraft, with estimated speeds ranging from 10Mbps to 15Mbps.
Instructions to Connect to JetBlue Airline WiFi?
Enable Wi-Fi on your device
Connect to "FlyFi" in your device WiFi settings
Launch your browser
Follow the sign in instructions
Sign in and browse the web
Frequently Asked Questions
What Is JetBlue WiFi SSID?
The SSID is 'FlyFi'.
What is Fly-Fi?
JetBlue Airline's WiFi service is known as Fly-Fi, and is available from gate to gate, eliminating the need for passengers to wait until the plane reaches cruising altitude to connect. Passengers are permitted to use their electronic devices from the minute they board the plane.
Does JetBlue Have TVs On the Plane?
JetBlue aircrafts have seat back screens on all its seats.
Which Devices Work On Fly-Fi?
All of today's modern devices should be compatible with Jet Blue's Fly-Fi WiFi. Supported devices include:
Windows and Mac Computers
Android

smartphones

and Android Tablets
iPhones and iPads
Amazon Fire devices
How To Fix JetBlue Fly-Fi Not Working?
Has your device indicated it's "Connected" but the connection doesn't fully work when you browse?
The following has been reported as a working solution for some passengers:
The in-flight wifi may be disabled by JetBlue for take-off and landing. (Despite it being labelled as gate-to-gate WiFi)
Wait a few minutes until take-off is complete.
Go to your device WiFi settings and "Forget" the FlyFi network.
Restart your laptop or mobile.
Go to WiFi settings again and connect to the FlyFi network.
Launch your browser and wait for sign in instructions.
Do a test on the JetBlue airline website to see if you are connected.
What is Jet Blue's Mission Statement
JetBlue's mission is "to inspire humanity, both in the air and on the ground"
What is Jet Blue's Vision Statement
JetBlue's vision is "for continual emphasis on providing competitive rates for customers for all of our destinations."
Social Media Details
---
Thanks for reading our article on The Airways Guide. Our aim is to be the go-to global database of Airline WiFi information which is provided to you free of charge via our website to keep you connected during your flight. Have a look to see if your next flight is equipped with Free WiFi. If yes, we'll guide you through what you need to do to get WiFi during your journey.