Microsoft Teams (or Teams) is a popular video conferencing app used by many organizations. MS Teams is crucial for meetings and work presentations, such as screen sharing, but if you're on a flight, is it possible to join a Teams call on a plane?
Does Microsoft Teams Work On A Plane?
Teams video calling will work on any aircraft that provides stable and high-speed inflight WiFi. However, some airlines do not allow in-flight voice calls.
One such airline is Delta Airlines, where the CEO, Richard Anderson, made it clear that they would not allow inflight voice calls. This is because many passengers have voiced out that voice or video calls when onboard are disruptive. Read his statement here.
We recommend that if you need to join a video call while on a plane and where participation is necessary, do so, but be considerate of your fellow passengers and follow the airline's guidelines.
How Will I Know If Teams Will Work On My Flight?
Firstly, your airline needs to have WiFi capability – Have a look here for Free or Paid options for various airlines around the world.
Some airlines, such as Delta airlines block video conferencing calls over their inflight WiFi via a network configuration. High bandwidth apps such as Netflix, YouTube, Zoom, and MS Teams are prohibited to provide all passengers with a good inflight WiFi experience.
VoIP (Voice over Internet Protocol) services are sometimes blocked by airline WiFi. Unfortunately, this also includes the texting and chatting capabilities of services on Teams.
If you'd like to find out if Teams is allowed on your flight, we recommend contacting the airline directly and asking if video conferencing calls are allowed onboard.
What Bandwidth Do You Need For MS Teams On A Flight?
Teams was designed to give great audio and video quality regardless of your network conditions. Teams will prioritize audio quality over video quality if your internet speed is slow. In fact, you can have a Teams video call on internet speeds of 1.5 Mbps! To minimize latency for the best possible call quality inflight, you should have an upload speed of at least 1.5 Mbps and a download speed of at least 2 Mbps.
You can check your internet speed at Speedtest.net. Teams is very flexible when it comes to the bandwidth required – see the Teams bandwidth requirements page. If you're on a data-limited inflight WiFi plan, then you will need to conserve your data usage. Teams uses approximately 700-900 MB of data per hour. If you need to reduce your Teams data usage, have a look at some tips here.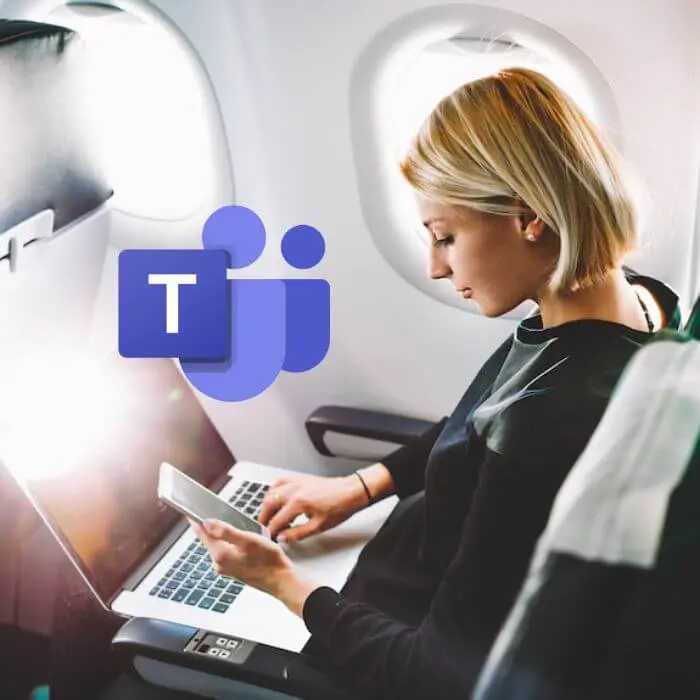 MS Teams Etiquette During Your Flight
Ensure you're on mute if not participating. If you're not required to speak, mute your microphone when not actively speaking. Also, try to be courteous to the passengers around you and be efficient with your time when speaking.
Use headphones. Always use headphones or earphones to not disturb others.
Reschedule if possible. if you're an important attendee then ask the host if the meeting can be rescheduled either before or after your flight.
Conclusion
You can use Microsoft Teams on airline WiFi however it will depend on the airline you are flying and if video conferencing with Teams is blocked. To use Teams on your flight, ensure that the airline is capable of providing internet with a minimum speed of 1.5 Mbps to have a stutter free Teams meeting. Lastly, be mindful of the passengers around you when speaking in your meeting and keep it short!