Navigate to DeltaWiFi.com to access Delta Airlines Wi-Fi portal. Delta's fleet is currently powered by Gogo inflight WiFi and Viasat, two of the leading aircraft internet providers. Delta Airlines offers free messaging on its aircrafts, which allows you to send and receive text messages, WhatsApp Messages, Telegram texts by connecting to the onboard WiFi during your flight. This guide aims to help you connect to Delta Air Lines Inflight Wi-Fi.
How To Connect To Delta Airlines Wi-Fi?
Follow the steps to connect to Delta WiFi once you've boarded your Delta aircraft:
Check that your phone is in Airplane Mode.
Turn on your WiFi device and look for "deltawifi.com" in the list of detected networks.
If the Delta Wi-Fi interface does not load automatically, go to deltawifi.com.
On the Delta Portal, choose your plan from the available options.
Subscriptions and Prices
If you wish to browse the internet, Delta offers WiFi plans from either Viasat or Wi-Fi Onboard (formerly Gogo) depending on the aircraft.
Delta Airlines offers the following Wi-Fi subscriptions:
Domestic Flights within the US
If you are a SkyMiles Member, Delta offers free wifi on most domestic U.S. flights. Some Delta aircraft may be Wi-Fi Onboard (formerly Gogo). See here for Regional plans for Wi-Fi Onboard (or Gogo).
| Visat plans | Price |
| --- | --- |
| In-flight text messaging | Free |
| Single full-flight WiFi pass | $5.00 |
Viastat WiFi plans on selected Delta aircraft
The Viasat plans are currently available on the following aircraft: 319, 320, 321 (Selected aircraft), 737-800, 737-900, 757-200.
Regional Flights
Price: $49.95 per month with automatic renewal *
Coverage: U.S., Canada, Mexico (where network coverage exists)
*Note that Delta mentions that Free Wifi will be available by December 31, 2024.
International Flights
Price: $69.95 per month with automatic renewal or $599 annually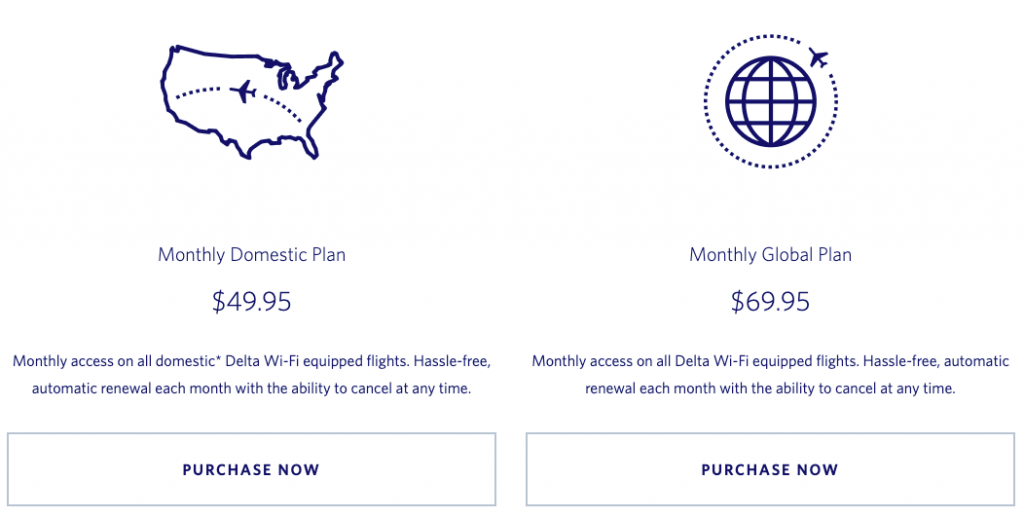 Delta Wi-Fi coverage
We recommend calling the Delta Customer Support prior to your flight to see which network provider (Visat or Wi-Fi Onboard) is available on your flight and your aircraft. You can pre-purchase the Wi-Fi Onboard (formerly Gogo) plans ahead of time.
Passengers can enjoy internet service when flying above 10,000 feet within the service coverage area. The service is available as long as the aircraft remains within the service's global network service area. However, if the aircraft ventures outside this area, such as over the Arctic Circle, the service may experience interruptions.