Delta Airlines is one of the world's major airline providers of in-flight internet, with over 1,200 aircraft outfitted with WiFi.
Delta's fleet is currently powered by Gogo inflight WiFi and Viasat, two of the leading aircraft internet providers.
In this guide, we will help you find the cheapest ways to connect to the inflight deltawifi. We explore the pre-purchase WiFi passes and the new in-flight WiFi options.
Airline Details
| | |
| --- | --- |
| Airline Full Name | Delta Airlines |
| Headquarters | Atlanta, Georgia, United States |
| IATA Code | DL |
| ICAO Code | DAL |
| Frequent-flyer Program Name | SkyMiles |
| In-Flight Wi-Fi | Free messaging and Paid plans available |
| Wi-Fi Provider | Viasat and Gogo |
| Pets Allowed? | Yes, in cabin (on certain flights only) |
Delta Airline WiFi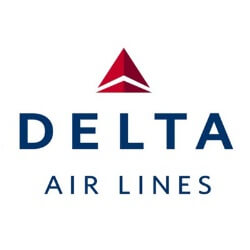 Delta Airlines offers free messaging on its aircrafts, which allows you to send and receive text messages, WhatsApp Messages, Telegram texts by connecting to the onboard WiFi during your flight.
If you wish to browse the internet, Delta offers satellite WiFi plans from either Viasat or Gogo depending on the aircraft.
The pricing for each internet provider is listed below.
| Visat Options | Price |
| --- | --- |
| In-flight text messaging | Free |
| Single full-flight WiFi pass | $5.00 |
Viastat WiFi plans on selected Delta aircraft
The Viasat plans are currently available on the following aircrafts:
Airbus A321
Boeing 737-900ER
Boeing 757-200
Gogo WiFi plans on selected Delta aircraft
We recommend calling the Delta prior to your flight to see which network provider (Visat or Gogo) is available on your flight – you can pre-purchase the Gogo plans ahead of time.
Gogo all day passes and one-hour passes are valid for one year from the date of purchase. Domestic flights are those that operate between airports in the United States, Canada, and Mexico where network coverage exists.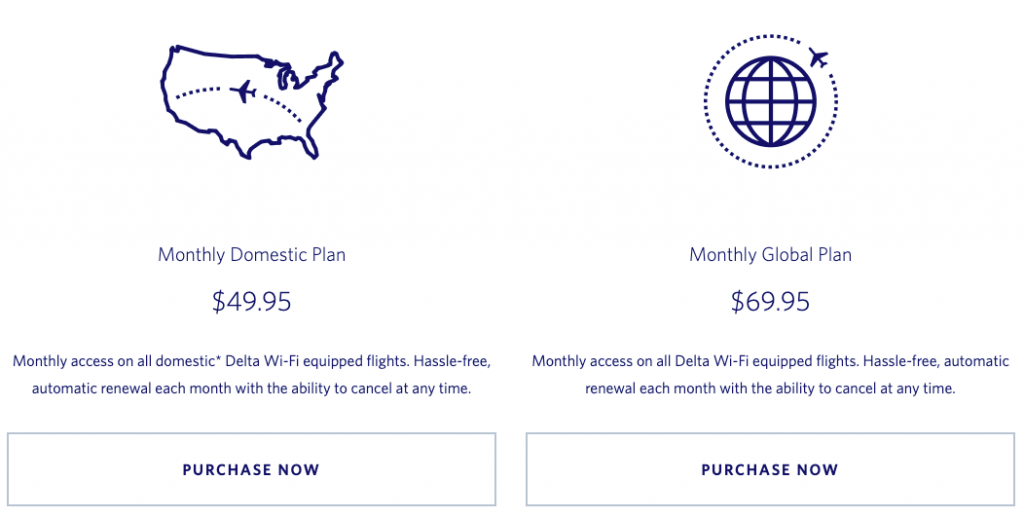 Access to Delta's WiFi, like that of numerous other airlines equipped by Gogo, such as Air Canada, Alaska Airlines, and United Airlines, can be purchased prior to any particular trip on a subscription-based plan.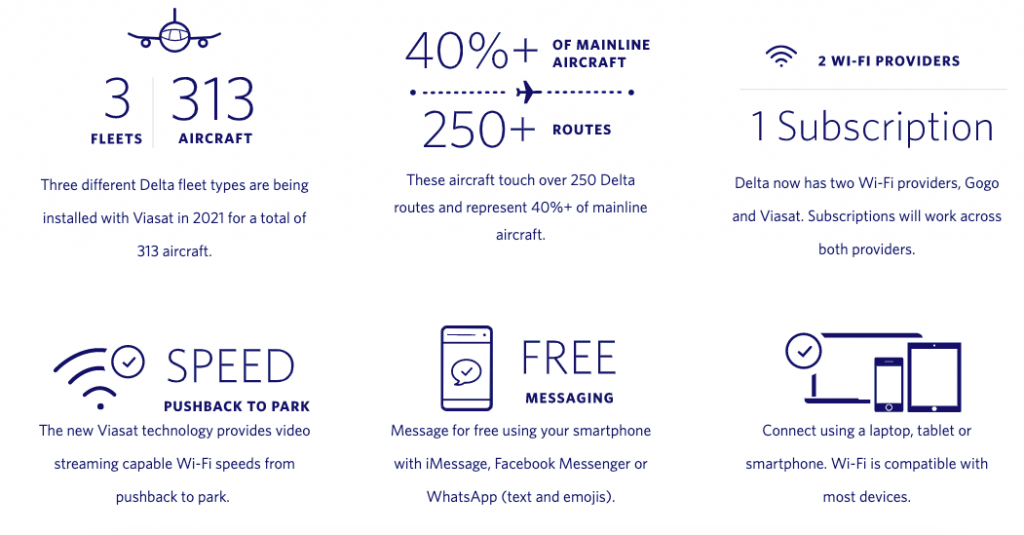 Delta stated in 2021 that it would phase out Gogo Wi-Fi in favor of a partnership with Viasat. In 2021, the airline intended to transfer 300 aircraft, or less than half of Delta's fleet, to Viasat WiFi. By the end of 2022, Delta aims to upgrade all of its domestic fleets with Viasat WiFi.
Delta intends to provide free onboard WiFi in the future. JetBlue now provides free in-flight internet access, while Aer Lingus offers free usage-capped WiFi services. In-flight texting is now accessible on Southwest and Alaska Airlines.
Instructions to Connect to Delta Airline WiFi?
Follow the steps to connect to Delta WiFi once you've boarded your Delta aircraft:
Check that your phone is in Airplane Mode.
Turn on your WiFi device and look for "deltawifi.com" in the list of detected networks.
If the Delta Wi-Fi interface does not load automatically, go to deltawifi.com.
On the Delta Portal, choose your plan from the available options.
Frequently Asked Questions
What Is Delta Airlines WiFi SSID?
The SSID is deltawifi.com, delawifi com or wifi.delta.com
How Much Does Delta Viasat WiFi Cost?
Delta WiFi by the internet producer Viasat costs $5 for an entire flight. In comparison to Delta's Gogo 2ku "high-speed" WiFi, which costs a minimum of $16, this is a significant saving and you can expect higher speeds.
Is Delta Airline WiFi Free?
Delta offers free inflight messaging by connecting to the onboard Wi-Fi during the flight. Delta offers paid plans starting from $5 per flight depending on the aircraft and WiFi service provider.
How Fast Is Delta WiFi?
You can expect the following WiFi speeds when connected to Delta flights:
| WiFi Provider | Speed |
| --- | --- |
| Viasat | 30 Mbps |
| 2Ku Gogo | 3 Mbps |
Delta WiFi speeds you can expect
Speeds are indicative of our tests and may vary from your experiences.
Is Delta WiFi Fast Enough to Stream?
Delta WiFi is fast enough for streaming when using the Viasat $5 flight plan. We saw a maximum speed of 30 Mbps and occasional drops to 3 Mbps but it was sufficient to stream Netflix with no major buffering issues.
If you would like to stream while onboard an aircraft, we recommend downloading shows for offline viewing. We experienced frequent drops on 2Ku Gogo's satellite internet and the WiFi struggled to meet a measly 1 Mbps.
Does Delta Airline Have a Day Pass for Wi Fi?
Delta Wi-Fi passes cost $19 for a day pass which provides 24 hours of continuous access on any domestic Gogo-equipped flight. Delta WiFi passes for international travellers are $28 for a global day pass, which is usable on one or more Gogo-equipped Delta flights regardless of path.
What is Delta Airline's Mission Statement
Delta Airline's mission statement is "we—Delta's employees, customers, and community partners together form a force for positive local and global change, dedicated to bettering standards of living and the environment where we and our customers live and work"
What is Delta Airline's Vision Statement
Delta Airline's vision is "to be the World's Most Trusted Airline."
Social Media Details
---
Thanks for reading our article on The Airways Guide. Our aim is to be the go-to global database of Airline WiFi information which is provided to you free of charge via our website to keep you connected during your flight. Have a look to see if your next flight is equipped with Free WiFi. If yes, we'll guide you through what you need to do to get WiFi during your journey.