Vueling is an airline from Spain offering affordable flights to its passengers. It commenced operations in early 2004, and the first flight took off from Barcelona to Ibiza on 1 July 2004. The airline has its primary base at El Prat in the Greater Barcelona area.
Vueling is the largest airline in Spain considering their fleet size and the number of destinations where passengers can travel to. As of 2021, they fly passengers to 122 destinations in Asia, Africa, Europe, and the Middle East.
They believe in offering the best service to their passengers therefore they have chosen to provide paid WiFi services on their aircraft, irrespective of the duration. The connection comes at high-speed and is available on all routes, giving the passengers more freedom and a better experience.
We were surprised with our experience with Vueling WiFi. Read on to find out why and instructions you can use to get connected.
Vueling Airline Details
| | |
| --- | --- |
| Airline Full Name | Vueling |
| Headquarters | Barcelona, Catalonia, Spain |
| IATA Code | VK |
| ICAO Code | VLG |
| Frequent-flyer Program Name | Vueling Club |
| In-Flight Wi-Fi | Paid |
| Wi-Fi Provider | European Aviation Network (EAN) |
Vueling Airlines WiFi
Vueling has begun testing its new in-flight broadband service, which is powered by EAN, on a couple of its short-haul planes in 2019. More than 110 Airbus A319, A320, and A321 aircraft have already been equipped with the high-speed WiFi connectivity, carrying passengers on hundreds of different trips.
High-speed WiFi is available onboard for all Vueling flights. They are also working to install USB charging connectors on every seat of their airplanes. These will ensure that the passengers can enjoy streaming and browsing without worrying about their devices running out of battery.
The cost of the various WiFi options varies. The following are some of the plans available on Vueling:

Messages (€3.00) – Passengers can send messages to their friends and family while on the plane. This flight's duration is the same as the flight's duration.
Browsing and Streaming for 1 hour (€5.99) – This plan is ideal for passengers who like to listen to music or fall asleep during their flight. For €5.99, they can enjoy the advantages of watching a movie or listening to their favorite music. It's ideal for flights that aren't too long.
Browsing and Streaming for entire the flight (Starts at €5.99) – This is the best plan for long international flights. You can browse and stream movies, TV shows and music for the entire flight. The price varies with the flight duration and begins at €5.99.
The pricing of Vueling WiFi was relatively affordable for a decent speed and stable WiFi which allowed us to stream and use Facebook and WhatsApp without issues.
Instructions to Connect to Vueling Airlines WiFi?
Follow the steps to connect to Vueling Air WiFi once you've boarded your aircraft:

Check that your phone is in Airplane Mode.
Turn on your WiFi device and look for "Vueling" or similar SSID in the list of detected networks.
Open your browser, go to shop.vueling.com, select your desired package, and you're ready to get connected.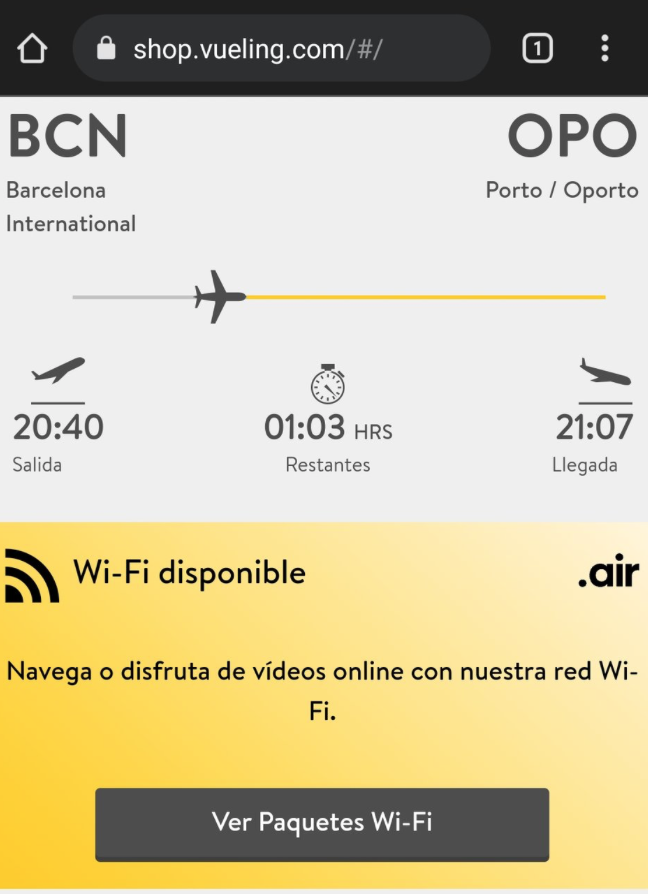 Note that the WiFi is activated once the plane reaches 10,000 feet above sea level. These days, the service automatically starts once the height is reached. They also deactivate the connection before landing to ensure a smooth and uninterrupted landing process.
Frequently Asked Questions
What Is The Speed of Vueling Airlines WiFi?
Vueling says that travellers can expect in-flight WiFi speed up to 20 Mbps.
What Are The Prices For Vueling Airlines WiFi?
Vueling Airlines WiFi prices range between €3.00 and upwards depending on the flight route and the connectivity package you select.
Is Vueling Airlines WiFi Free?
Vueling Airlines does not offer free WiFi, however they do have unlimited paid WiFi options to purchase.
Does Vueling Airlines Serve Alcohol?
Yes, Vueling Airlines serves a variety of alcoholic beverages to its passengers. They also serve warm and fizzy drinks for kids and adults who don't drink.
What is Vueling Airlines Mission Statement
Vueling Airlines mission statement is to "prioritize connecting people with places while delivering value to their employees, shareholders, and customers. They also strive to shape their future sustainably."
What is Vueling Airlines Vision Statement
Vueling Airlines vision is "to become the best airline for their customers." This vision is the basis for all their business decisions. So, it has led to an increase in customers over the years.