Turkish Airlines is the country's flag carrier, with more destinations than any other airline in the world. The airline serves over 280 airports in 110 countries.
Turkish Airlines operates about 400 aircraft, ranging from the modest Airbus A319 to the massive Boeing 777-300ER. It is up to chance which aircraft type you will be in, as aircraft are swapped on a regular basis for maintenance and operations.
Turkish Airlines promises to offer 10 MB of free WiFi on some of its flights, but there is a catch, which we will discuss further in this article.
Turkish Airline Details
| | |
| --- | --- |
| Airline Full Name | Turkish Airlines |
| Headquarters | Istanbul Atatürk Airport, Yeşilköy, Turkey |
| IATA Code | TK |
| ICAO Code | THY |
| Frequent-flyer Program Name | Miles&Smiles |
| In-Flight Wi-Fi | Paid |
| Wi-Fi Provider | Türk Telekom Infrastructure |
Turkish Airlines WiFi
Turkish Airlines' in-flight entertainment system has an USB port for charging electronic devices, but can you stay connected while flying?
According to the airline, with the connectivity options accessible on Turkish Airlines flights, you can work in the same comfort as at the office or make the experience more fun by bringing your own Wi-Fi equipped devices via their Türk Telekom infrastructure.
WiFi service is exclusively available to Business Class passengers and Miles&Smiles cardholders (Economy Class). WiFi is also only available on international flights operated by the following airlines:
A350
A330
A321 NEO
B787
B777
B737 MAX
Turkish Airlines provides free WiFi access to Business Class travellers and Miles&Smiles cardholders with the quotas stated below.
| Airline Class | Free WiFi Quota |
| --- | --- |
| Passengers in Business Class who hold a Miles&Smiles Elite or Elite Plus card | Unlimited |
| Business Class | 1 GB |
| Miles&Smiles Elite and Elite Plus Card Holders | 400 MB |
| Miles&Smiles Classic and Classic Plus Card Holders | 10 MB |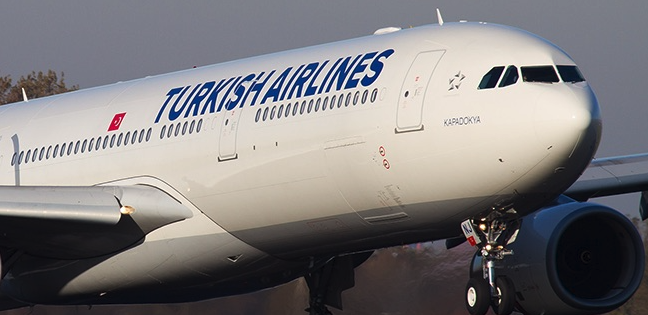 Passengers who have used up their complimentary quota and those traveling in Economy Class can continue to use this service by purchasing a connectivity packages. The pricing for Turkish Airlines WiFi plans are listed below.
| Data Usage Quota | Price (USD) |
| --- | --- |
| 20 MB | $2.99 |
| 50 MB | $4.99 |
| 100 MB | $7.99 |
| 250 MB | $14.99 |
| 500 MB | $24.99 |
WiFi plans on selected Turkish Airlines aircraft
Instructions to Connect to Turkish Airlines WiFi?
Follow the steps to connect to Turkish Airlines WiFi once you've boarded your aircraft:
Check that your phone is in Airplane Mode.
Turn on your WiFi device and look for "Turk Telekom" or similar in the list of detected networks.
On the WiFi interface which loads up, choose your plan from the available complimentary and paid options.

If you choose a paid plan after your free quota is used up, enter your details required and payment information and you'll be connected.
Frequently Asked Questions
What Is Turkish Airlines WiFi SSID?
The SSID is 'Turk Telekom'.
How Much Does Turkish Airlines WiFi Cost?
Turkish Airlines WiFi prices range between $3 to $25 depending on the aircraft, flight path and the quota of the paid package you choose.
Is Turkish Airlines WiFi Free?
Turkish Airlines offers 10 MB of free WiFi access to Business Class passengers and Miles&Smiles cardholders. If you have a Miles&Smiles Elite or Elite Plus card in Business Class, WiFi is unlimited and free.
What is Turkish Airlines Mission Statement
Turkish Airlines mission statement is to"become the preferred leading European air carrier with a global network of coverage thanks to its strict compliance with flight safety, reliability, product line, service quality and competitiveness, whilst maintaining its identity as the flag carrier of the Republic of Turkey in the civil air transportation industry."
What is Turkish Airlines Vision Statement
Turkish Airlines vision is "to continue its surge to the top of the chart in service quality by maintaining the fleet age average."