Sun Country Airlines has been awarded a 3-Star Low-Cost Airlines rating for the quality of its airport, onboard food, and employee service. Its ranking is determined on cabin comfort, luggage system, onboard food and drinks, cabin cleanliness, and cabin and ground crew service.
The airline is an American passenger and freight carrier that ranks 9th in the United States in terms of passengers served. Because of the airline's low-cost model to make flying as affordable as possible, Sun Country does not offer in-flight Wi-Fi on it's planes.
Flying on a budget airline can be tough. Safety and service usually take a backseat to cost. Sun Country is affordable and reliable, but what alternatives do they have to weigh off the lack of in-flight WiFi, which are quickly becoming a standard on many US airlines.
Airline Details
| | |
| --- | --- |
| Airline Full Name | Sun Country Airlines |
| Headquarters | Minneapolis, Minnesota, United States of America |
| IATA Code | SY |
| ICAO Code | SCX |
| Frequent-flyer Program Name | Sun Country Rewards |
| In-Flight Wi-Fi | Not Available |
| Wi-Fi Provider | Not Available |
| Pets Allowed? | Yes (1 Cat or Dog) |
Does Sun Country Airlines Have WiFi?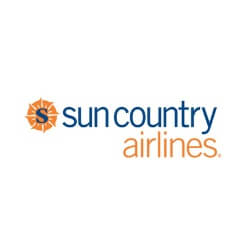 Sun Country Airlines (SY) does not offer in-flight Wi-Fi plans (free or paid) to passengers. However, Sun Country aircrafts are equipped with AirFi which allow you to get free in-flight entertainment and streaming to your devices while flying.
So, if you love to work from the skies with WiFi, then you're in luck if travelling with Sun Country Airlines. The airline mentions they they do not plan to offer any in-flight WiFi (free or paid) in the near future.
Sun Country AirFi
Sun Country Airlines' AirFi Network is a closed network where you can use your own smartphone, tablet, or laptop to stream TV shows and movies or play games.
Frequently Asked Questions
Does Sun Country Have TVs On the Plane?
Sun Country Airlines do not have seat-back TVs on their aircrafts. As an alternative their planes are fitted with an AirFi system, allowing guests to take advantage of their own free in-flight entertainment which you can stream to your phones or laptops onboard.
Does Sun Country Allow Pets on The Plane?
Pets (small cats and dogs) are permitted to fly in the main cabin on Sun Country. Pets are permitted as either carry-on or checked luggage. Sun Country Airport does not sell pet carriers.
What is Sun Country's Mission Statement
Sun Country's mission is "The airline that offers leisure travellers safe, reliable service at a great price to affordably connect guests to their favourite people, places and memories."
Social Media Details
---
Thanks for reading our article on The Airways Guide. Our aim is to be the go-to global database of Airline WiFi information which is provided to you free of charge via our website to keep you connected during your flight. Have a look to see if your next flight is equipped with Free WiFi. If yes, we'll guide you through what you need to do to get WiFi during your journey.