Air India is India's biggest airline carrier and was founded in 1932. Air India serves southern and eastern Asia, the Middle East, Europe, Africa, Australia, the United States, and Canada.
Are you getting ready to board an Air India flight and considering using social media or browsing the web onboard? Well, here's the low-down on everything there is to know about Air India's internet and in-flight entertainment.
Air India Airline Overview
| | |
| --- | --- |
| Airline Full Name | Air India |
| Headquarters | Airlines House, Delhi, India |
| IATA Code | AI |
| ICAO Code | AIC |
| Frequent-flyer Program Name | Flying Returns |
| In-Flight Wi-Fi | Not Available |
| Wi-Fi Provider | Not Available |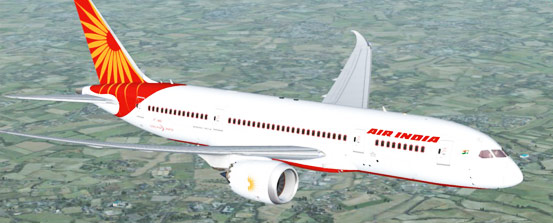 Air India WiFi
Air India does not currently offer WiFi on any of their aircraft. However, the airline provides free inflight entertainment on its Airbus fleet with a variety of TV channels, Movies, Music, and news.
In 2019, Air India announced it was considering installing WiFi onboard for long-haul international routes such as Europe, the United States, and Australia. According to Air India, the airline also planned to revamp its wide-body fleet and inflight entertainment screens. The airline planned to upgrade the inflight entertainment screens on several of its aircraft, which caused a big gripe for passengers since many screens were non-functional.
Since 2019, the airline has not opted to add inflight WiFi to its aircraft.
If you wish to occupy yourself during the flight, we suggest you bring a fully charged laptop, phone, or tablet and download your content for offline viewing.
The airline has power outlets on its aircraft for long-haul routes to keep your devices charged.
Frequently Asked Questions
Does Air India Have TVs On the Plane?
Air India aircraft have seat-back TV's in its economy and executive and first-class cabins offering a wide range of movies, TV shows, Music, and news.