Aer Lingus (EI) is Ireland's national airline. Aer Lingus provides 62 flights to the United Kingdom, Europe, and North America. The airline's headquarters are located in Dublin Airport. The airline's objective is to become the main carrier serving the North Atlantic via its short-haul network.
Airline Details
| | |
| --- | --- |
| Airline Full Name | Aer Lingus Airlines |
| Headquarters | Dublin Airport, Ireland |
| IATA Code | EI |
| ICAO Code | EIN |
| Frequent-flyer Program Name | AerClub |
| In-Flight Wi-Fi | Available (Paid) |
| Wi-Fi Provider | Panasonic |
| Pets Allowed? | Yes, in cargo and carrier |
Aer Lingus Airline WiFi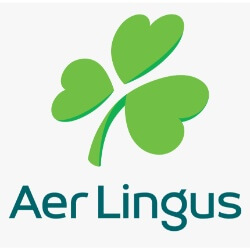 You know you want to use WiFi to keep in contact with your friends and family whilst jet-setting across the Atlantic. Connecting the airline's WiFi is not straightforward, that's why we're here to help with our guide to Aer Lingus Airline WiFi.
Aer Lingus Airlines (EI) offers paid onboard Wi-Fi plans on it's A330 and A321neoLR aircrafts only. For business class passengers, in-flight WiFi is complimentary.
The Wi-Fi packages are available to purchase on board the A330 and A321neoLR aircrafts only and will work with any Wi-Fi enabled device.
Aer Lingus WiFi Plans
| Package | Price |
| --- | --- |
| Aer Social | €6.95/$7.95 for 50MB |
| Aer Surf | €13.95/$15.95 for 120MB |
| Aer Max | €29.95/$32.95 for 270MB |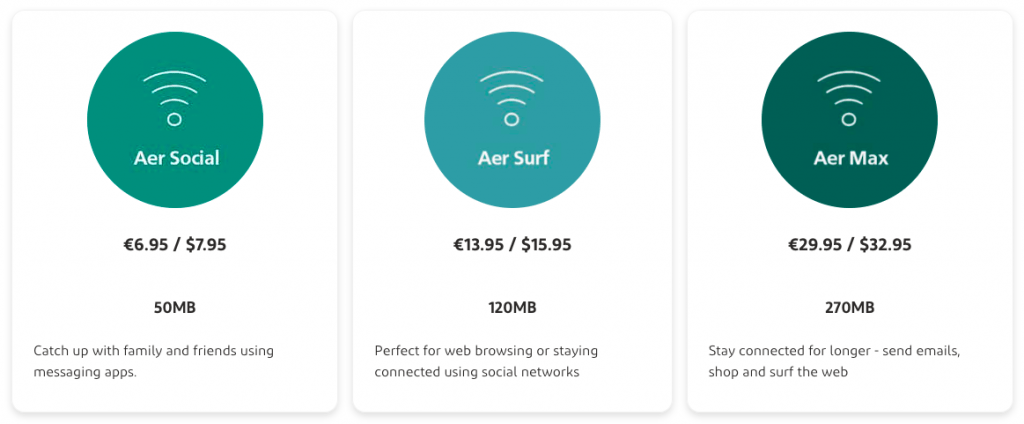 How to Connect to Aer Lingus Airline WiFi?
Enable Wi-Fi on your device
Connect to "Aer_Lingus_WiFi" in your device WiFi settings
Launch your browser
Purchase your voucher through the Aer Lingus WiFi page
Sign in and browse the web
Frequently Asked Questions
What Is Aer Lingus WiFi SSID?
The SSID is 'Aer_Lingus_WiFi'.
Does Aer Lingus Have TVs On the Plane?
Aer Lingus A321LR and A330 aircrafts have TVs with an in-flight entertainment system. The in-flight entertainment is free and you do not need to purchase a WiFi subscription.
Does Aer Lingus Allow Pets on The Plane?
Aer Lingus does not allow pets in the airplane cabin, except for trained and licensed assistance dogs. Pets can be transported as cargo by a freight forwarder.
What is Aer Lingus' Mission Statement
Aer Lingus' mission is to "become the leading value carrier operating across the North Atlantic enabled by a profitable and sustainable short-haul network, and supported by a guest-focused brand and a digitally-enabled value proposition."
What is Aer Lingus' Vision Statement
Aer Lingus' vision is "to be recognised as a safe airline and the leading carrier, 'Connecting Ireland to the World'."
Social Media Details
---
Thanks for reading our article on The Airways Guide. Our aim is to be the go-to global database of Airline WiFi information which is provided to you free of charge via our website to keep you connected during your flight. Have a look to see if your next flight is equipped with Free WiFi. If yes, we'll guide you through what you need to do to get WiFi during your journey.